BCPK
"A parkour group comprised of Boston College students with an interest in Parkour"

Founded in 2008 by Greg and Matt Milano '11


Our Mission Statement

The goal of our club is to teach Parkour and share the philosophy of Parkour to the Boston College community. As a non-competitive athletic group, we would focus on the development of the whole person through controlled movement and environmental awareness. Our philosophy emphasizes safety and respect in all aspects of training.




Info about our group and training:

-

PK Council:

Senior members of the group who plan events, plan and lead training, discuss anything related to the group, nominate the co-leaders and continue to strive to make our group an officially registered group at BC. We meet four days a week plus select Saturdays or Sundays throughout the semester.

-Training is divided up into

upper body

and

lower body

focus training and also incorporates days we call 'personal progression' days; when a member can work on the techniques and movements that personally they need improvement on.

-We meet

Tuesday-Friday

at 4pm in ONeil Plaza.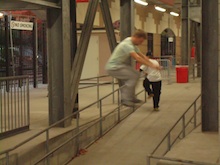 Rainy days

we will meet inside Alumni Stadium off of Beacon St. Select Saturdays and Sundays will be off-campus trips or "jams" to the best locations to practice Parkour in Boston.
Founding of BCPK-

BCPK was founded by Matt and Greg Milano in the Fall of 2008. We have been training the techniques and movement known as Parkour since 2006. Matt found Parkour via youtube in early 2006. Greg's interest started with some youtube videos he saw, and some techniques that his twin brother, Matt, was attempting along side teaching himself the backtuck. Matt's background comes first from Cross Country and track, then from joining his high school Diving team in 2005. Greg played soccer and ran track where he was a middle distance runner and sprinter as well as a long and triple jumper. Matt, after learning the backtuck from youtube tutorials, discovered Parkour. But, our interest was not fully sparked until we made a decision that we would never forget.
We were 18 and very, very new to parkour.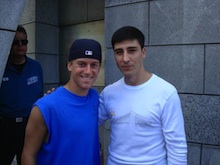 We were attendin
g school at Boston College and came home to West Haven, CT for a weekend and realiz
ed that The New Yorker was putting on a demonstration about parkour in New York
City! The decision to go was impulsive and it did not hit us about who we were going to see
u
ntil we saw the number of practicitioners and media at the event. Watching this demonstration and hearing David Belle answer questions about parkour, all live in person, was an amazing experience. It has triggered every action towards learning, training and spreading parkour. From this point on, Matt and I made it our mission to train at a level in which we can fully understand the movement known as Parkour.
Together we established a mission and a goal of educating ourselves about the philosophy of parkour, history and current practice of parkour across the globe. This has lead us to accumulate a huge amount of knowledge and understanding of parkour in the worldwide community. Attending Boston College opened up a new opportunity
for us. We saw Boston College as a great new place to train, among a large array of locations in proximity to BC including: Harvard, M.I.T.,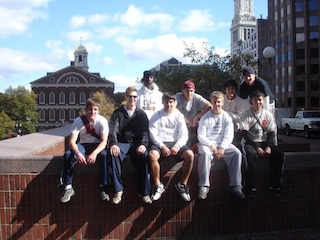 Charlestown Navy Shipyard "The babypool", Government Center (site of the 2010 Art of Motion), Chinatown Community Center (featured in the Discovery Channel's Time Warp), and Peirce Elementary School; just to name a few of the great places to train in Boston. As we became more involved with hosting jams through New England Parkour, we saw the appeal of Boston College's campus for parkour at every level.

In September of 2008, Matt and Greg Milano took a large leap of faith and set up a table at Boston College's Student Activities Day to see what kind of interest the Boston College community had in parkour and how many people wanted to learn parkour. With a laptop, pictures and a makeshift sign that said "Boston College Parkour" to look somewhat official, we would manage to have 206 students give us there email addresses to recieve more information about a small demonstration / introduction to parkour and the future opportunity to learn parkour at Boston College. We were extremely excited about the number of people that showed interest in parkour. But, also, we were slightly intimidated and felt the pressure to deliver not only a strong demonstration but a strong introduction and definition of parkour. To anyone this could be hard. So, we informed our friends with New England Parkour to come up to BC to help us out. We were able to get a few of our training buddies including some Boston locals and even our friend Josh from our home training grounds of CT. Having Josh there was very important to us because he had been our mentor in training the summer before the Fall semester. He had also attended the same New Yorker demonstration, along with the kids from NYPK (who we had the chance to meet and train with at the 2009 NYC National Jam).

The demonstration attracted close to 25 people which we were more than happy with. This marked the founding of our parkour group at Boston College. Though not an official recognized club by Boston College, we would call ourselves BCPK.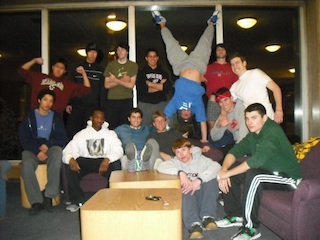 That fall, in 2008 we had 15 members who trained regularly with us week by week, none of which had ever trained parkour prior to attending Boston College. At first, our training schedule revolved around teaching along with conditioning. These early training sessions were made up by Greg off the top of his head, influenced by workouts he had seen in person in Amsterdam and New York, as well as workouts from videos on Youtube. Our methods of teaching stemmed from the fact that mostly everything we knew was self taught. After evaluating how our club worked in the fall, Greg devised a more complex and planned schedule of conditioning sessions as well as personal progression days, which rotated on a bi-weekly schedule throughout the semester.

In the spring of 2009, the membership had slightly decreased to a dedicated 12 members. With these founding members, we wanted to set our goals higher and wanted to establish BCPK as a recognized student organization at Boston College. Being that BC is a very conservative Catholic Jesuit institution, we knew we had a hard road ahead of us. At this time, we were featured in an article in the school newspaper, "The Heights" which had a few full size, color pictures of Matt, I and the first member of BCPK and furture president of BCPK, Matthew Cullen training on campus. This was an exciting moment for us, as we gained some campus wide attention as a group. This inspired us to put some serious energy into submitting a full proposal to Boston College.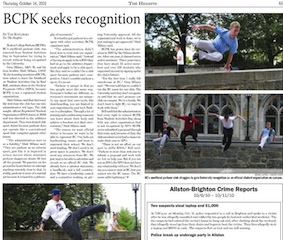 Our first bump in the road came when we were told that the Student Programs Office could not place us in any category they had; not academic, cultural, spiritual, art or dance. We were told to submit our proposal to the Club Sports Office, even though they understood the non-competitive nature of parkour, but told us it is "too athletic." Our proposal was given a response in July 2009, which denied our request to be recognized, stating liability as their biggest concern while adding other non-sense to the end of the response. We will continue to submit revised proposals as we have been welcomed to work with them about our disagreements with their answer.

This did not stop BCPK in Fall of 2009, as we again set up a table at Student Activities Day aided by returning members, who demonstrated techniques on a vault box Matt and Greg built, which displays the BCPK logo. This year, we gained another 100 names and emails to add to last years numbers, now rivaling the numbers of Boston College Club Ultimate Frisbee, the most popular athletic club at BC. In 2009, we lost a few returning members to semester abroad but have gained another 15 dedicated members, making our unofficial total dedicated membership at close to 25 practicitioners who would never had done parkour without the efforts of the Milano brothers.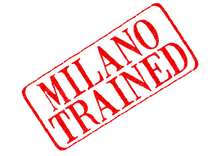 In 2010, we implemented our revised training schedule for our club. It has been a great success as it enables practitioners to experience a wide range of training and conditioning techniques. We have made it possible for people to train in a group, stretch in a group, and condition in a group, but also be given the opportunity to progress personally without instruction incorporating the importance of self taught parkour and personal progression. As a result from the founding of this club, we have made it a goal not only to accomplish the mission of educating ourselves about everything that has anything to do with parkour, but spread it to the Boston College community in a safe and fun way. In this spirit we have created BCPK traditions. I see them as very important to building a sense of identity and camaraderie between members of BCPK.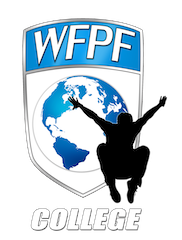 One of our last contributions to the group before graduating in May of 2011, was to get BCPK affiliated with the WFPF, becoming the first college parkour group to join the WFPF. We remain unofficial and independent from Boston College, as of Fall 2011.



Bios of the founders of BCPK:


Matt Milano- "The Godfather"
BCPK co-leader term: 2008-2011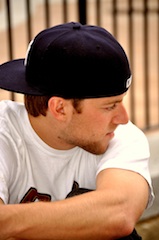 I am originally from West Haven, Connecticut, USA. As a previous high school diver, I started training Freerunning and Parkour in 2006. In 2008, at the New Yorker Festival demonstration, I met and received an autograph and picture with David Belle. Later that year my twin brother Greg and I founded "BCPK" Boston College's 'unofficial' Parkour club where I led and instructed 25 dedicated members.
I have trained in Europe, including a pilgrimage to London in April 2010 and I trained with locals during previous trips to Amsterdam and Italy. I have also trained in Los Angeles, at UCLA and Venice Beach. I called Boston, MA my residence and training grounds for the 2007-2011 school years where I was involved with planning and promoting for the Sept 2010 Boston Red Bull Art of Motion in affiliation with the WFPF. During this amazing experience I trained with athletes such as Ryan Doyle, Daniel Arroyo, Tim Sheiff, Pip Anderson,
Yoann Zephyr Leroux
,
Jason Paul
, and Cato Aspmo. It was shortly after this that my brother Greg and I became invloved with the WFPF, first becoming the WFPF's first college affiliate in BCPK, then working with them to organize the college parkour community with the College WFPF program.
Today I am a high school teacher in Connecticut. I have made it a personal mission to develop the Connecticut parkour scene by using the CTPK facebook groups and regional forums, continually spreading Parkour and Freerunning throughout CT. After graduating from BC in May 2011, my brother and I remain active supporting members of BCPK and are as much invested in spreading the love of Parkour to colleges across the country as as we are invested in maintaining the longevity of BCPK. Currently in my sixth year of training and I am ever so excited about what the future holds.

Youtube Channel-
Minimattm
Greg Milano- "Professor Presh"
BCPK co-leader term: 2008-2011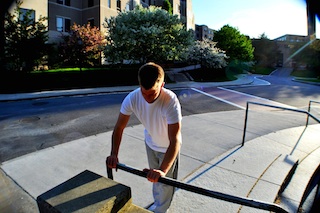 I am originally from West Haven, Connecticut, USA. Graduated from Boston College in Chestnut Hill, Massachusetts in 2011. I have a track and field background. Been training Parkour for four years. Together with my twin brother Matthew Milano, I founded "BCPK" the 'unofficial' parkour group at Boston College in the fall of 2008, now comprised of 25 dedicated members from all over the country. Also in 2008, I met David Belle in New York City at the New Yorker Festival. I have trained all over the world; in Italy I trained with Firenze PK in Florence and the Milano Monkeys in Milan, I trained in London, Amsterdam and trained at the Jiyo Parkour Park in Copenhagen, Denmark. In the USA, I have trained in California at UCLA and Venice Beach. In the Northeast I have attended the New York National Jam where I met Mark Toorock and NYPK. I train regularly all over the Northeast in New Haven, CT and in the greater Boston area. I am also a very active senior member of New England Parkour (neparkour.com) and Connecticut Parkour on Facebook
where I lead jams and share my knowledge and experience with members in the PK community. In 2010, I assisted Red Bull and the World Freerunning and Parkour Federation in planning a jam to accompany the Red Bull Art of Motion Parkour and Freerunning event in Boston, where I met the founders of the World Freerunning and Parkour Federation and internationally recognized parkour and freerunning athletes like Ryan Doyle, Tim "Livewire" Shieff, Daniel Arroyo and more. In 2011 after graduating from Boston College I was asked by the founders of WFPF along with my brother to create College WFPF. I am currently co-chair of College WFPF.
email: gregmmilano@gmail.com